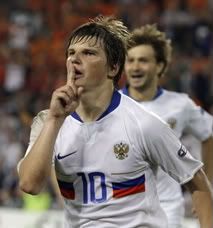 Who is this Andrei Arshavin guy anyway? He has lit up the Russian attack during Euro 2008, but Guus Hiddink for sure, and most hard core watchers of football in Europe have known about Arshavin for quite a while.
He's been scoring goals and orchestrating attacks for Zenith St Petersburg for quite some time...but his star has risen dramatically during the Euros. He dismantled a heavily favored Netherlands side, who many thought were unbeatable after the group stages.
I for one am looking forward to seeing this kid in England in the Autumn. Without seeing any scouting reports, I'm going to guess that he will end up at Arsenal.