Well, this wouldn't be a proper blog without some "celebrity" stuff now would it? So this is Gruffgoat's first installment of what might become a fun diversion from the normally serious world of football. If tons of celebs start showing up at matches - ahem - then we could turn this in to a weekly sightings post...but let's not get ahead of ourselves.
I'm often curious which celebrities are in to the beautiful game. Some have always loved it, and some may be new converts. At any rate, this post is a first cut wrap up of some American celebrity "soccer love."
JT is a fan.
Djimon Hounsou would rather play than act I think.
Most American sports fans know who Steve Nash is; but they might not know that Steve grew up with football and is a still a serious footballer in the off season. Here is a video taken from an all star celebrity match in New York on June 24th. Players included Steve, Baron Davis, Jason Kidd, Leandro Barbosa, Raja Bell, and footballers, Cladio Reyna, Thierry Henry, Steve McManaman, and Robbie Fowler:
Kevin Garnett of the NBA's Boston Celtics is a former high school stand out and still a huge Chelsea fan:
Tony Parker and Eva Longoria-Parker cheering on Tony's native France during the Italy match at Euro 2008: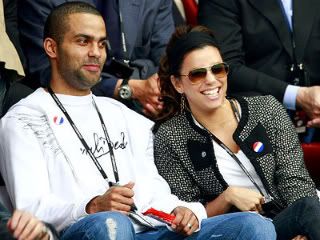 Everybody knows Drew Carey is a huge fan. Here he is interviewing Landon Donovan: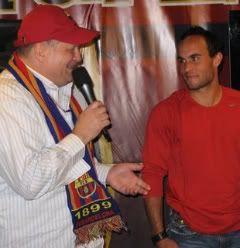 Rachel McAdams at the MLS All Stars vs. West Ham United Match:
Where would a list of football loving celebrities be without Hollywood United F.C.? Their celebrity players are listed below:
Vinnie Jones, soccer pro turned actor
Jason Statham, actor
Anthony LaPaglia, actor
Richard Gough, soccer pro and manager
Danny Cannon, director and producer
Frank Leboeuf, former soccer pro
Jimmy-Jean Louis, actor
Steve Jones, musician
Alexi Lalas, soccer pro turned MLS president
Eric Wynalda, soccer pro
Vivian Campbell, musician (Def Leppard)
Ray Winstone, actor
Ian Astbury, musician (The Cult)
Billy Duffy, musician (The Cult)
Hollywood United FC's over 40 team:
Maybe Victoria Beckham, Tom Cruise, and Kaite Holmes go without saying, but I've said them anyway:
Jennifer Love Hewitt and Arnold Schwarzenegger turned out to watch Beckham's LA Galaxy debut - but I'm not sure how many matches they've made it to sense...
Please
email me
with others that you know of or with any good pics.